You are here
stakeholder's meeting on revenue mobilization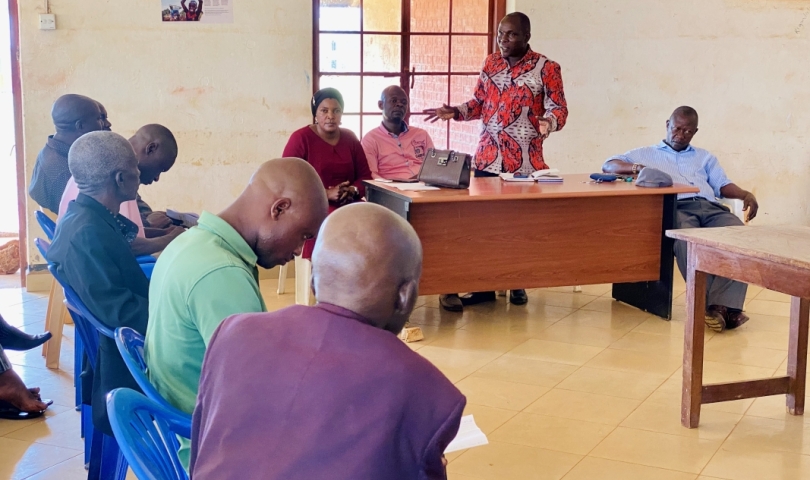 A stakeholder's meeting on revenue mobilization as well dissemination of information on the digital collection and management of revenue tool(IRAS), has just taken place this afternoon 31st August 2023 in the District Council hall.
The Integrated Revenue Administration System (IRAS) is a web and mobile based Revenue Management System which was initiated by the local Government Finance Commission (LGFC) and funded by the GoU in partnership with the World Bank.
During the meeting, the chief finance officer Kisita James revealed that Mayuge District was supposed to be enrolled on the program tomorrow 1st September 2023 however are waiting for a communication from the local government finance commission on when this will be done.
The CFO appealed to the lower local government officials to create specific names of roads /locations with business that will simplify collection of taxes. He emphasized total transparency and further requested sub counties to submit accurate information as regards tax payers.
He added the IRAS tool will lead to transparency and accountability,Better service delivery to the Citizens due to increased resources,Better data management, Enhanced compliance by payers through monitoring, Improved enumeration, registration, assessment, billing and auto tax computations, Auto generation of Receipts and Licences will guard against forgeries by Revenue collectors, Creation of convenience for payments through digital payments.
The District Vice Chairperson Tasibula Peter also added a voice on transparency on submitting tax payers information. He added that zombo district where we recently went to benchmark is doing well in revenue collection because of its transparency and the good working relationship between the political and technical wing which he said we must emulate.

It was revealed that there was need for Massive sensitisation of the Political leaders, Technical officers and the Business Community, Massive Enumeration, Registration and Assessment of Business enterprises for payment of :Trading ,License ,Operational Permits, Property Tax, Local Service Tax, Local Hotel Tax, Meat Inspection fees, Loading fee and off-loading fees . Meetings have been scheduled to this effect in the 3 constituencies to further create awareness on IRAS tool and emphasize mindset change on revenue mobilization and collection. The program starts Monday 4th September 2023 for Bunya west, 5th September 2023 for Bunya East and finally 6th September 2023 for Bunya south where sub county officials including all  parish chiefs, parish councilors, LCII &LCIII chairpersons.